Permalink
"Hey there! I love your blog and I've been really inspired by that tutorial you posted for a green-brown duo chrome eye look. I know you said that it was a green brown mac eyeshadow pigment, but I'm a newbie to mac and I've been googling my little heart to no avail trying to find this shadow. Any chance you could help, maybe by letting us know what the shade is called? Thanks a ton!"
Asked by Anonymous
Hi there! Green Brown is the actual name of the pigment from MAC! It's hard to find because it's not sold online unless you buy from sample sellers or from ebay (as far as I know). You need to visit a MAC Pro store or order from their phone line.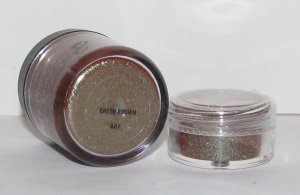 If you want, there is also a pure mica (the raw color ingredient) from TKB Trading called Dragonfly, but this is being discontinued soon. If you choose to purchase the raw mica, do note that because it doesn't contain any binders (ingredients like fats, or silicones, that make a pigment adhere to your skin and look shinier and stronger as a result), it will not look quite as pigmented as the MAC version unless you apply it wet.
—
UPDATE
@fuckyeahkittiesandmakeup: Thanks for the suggestion! The Too Faced version is similar to MAC's Club shadow, and both are actually closer to MAC's Blue Brown pigment, as they have that aqua sheen. If you don't mind the difference in tone, these are great alternatives.
Green brown has orange-brown undertones, as opposed to the red-brown in Club, Lounge, and Blue Brown.
It also has a more intense golden-green highlights, vs the softer, more blue-toned aqua/teal highlights in the blue-brown versions.