Permalink
The Scent To Buy Him (And Steal From Him)
If Dior Homme was a man, he would be the perfect modern gentleman; strong without needing to raise his voice, accommodating to the ladies but confident in himself, pleasant and polite without being boring. 
I blame Guy Ritchie for putting ideas in my head. Watch the Dior Homme campaign video, starring Jude Law.
See if you, like me, instead of visualizing Jude Law, begin to associate the scent with a gorgeous, slightly-dangerous woman; perfect red lips, a black hat cocked low, long bare legs, and a black coat that flaps provocatively open in the wind.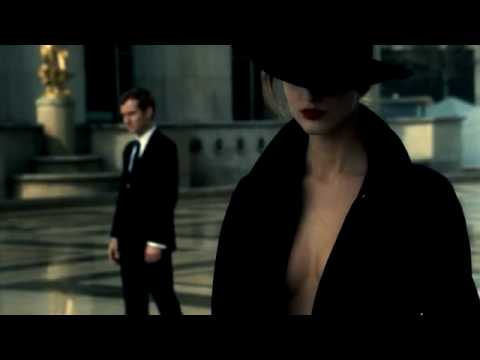 The other half I blame on Dior Homme's very intriguing and atypical "sandwich" (male-female-male) of notes which makes it at once arresting, yet comforting to wear:
Top - lavender, sage, bergamot (the "male" aspect of the scent comes from these typical cologne notes; I'm not a fan of lavender but I can tolerate it here)
Middle - Iris, amber, cacao, cardamom (very much more typical of women's perfumes)
Base - Vetiver, patchouli, leather (I'd say these are "unisex" notes)
I bought the EDT (eau de toilette) version, which has a more effervescent and less sugary finish compared to the eau de parfum concentration. After the sparkling citrus-herb top notes die down, the main thing you will detect throughout the day would be the delicious powdery-sweet iris-cacao mix with a slight musky buzz at the base from the vetiver, leather and patchouli in the background. (Anything with a cacao note is worth a spritz to me.)
It's not a sticky gourmand like Angel or Lolita Lempicka (which I admire but cannot wear, because they are so strong in this heat that they wear me instead). There's always a vein of freshness running through it at the same time.
I also love that the lavender here is a good team player and doesn't stick out like a sore thumb here. Plus, it lasts through the balmy humid heat without giving me a headache.
If you haven't smelt it because you've always passed it off as a "guy's cologne", here's why you should stop at the counter the next time. If this scent could talk, it would be a person who is:
intelligent but easy to get along with
tenacious but not cloying
light-hearted and charming, but with real depth
groomed but doesn't mind getting his hands dirty
knows how to enjoy himself/herself (chocolate!), but is not excessively self-indulgent
In the West, this is a top-seller, and gets high notes from the male reviewers on basenotes.com, AS WELL as female reviewers on Makeupalley.com
If you're in Asia like me, and standing in a crowd of men is like being bathed in a sea of forgettable "boyish" citrus-woods and chypres (all boring copies of yesterday's Tommys, Polos and cKs), Dior Homme stands out like a breath of fresh air.
And if they're not going to wear it, I'm going to.