Permalink
Things I've Been Into Lately (Click on the pics for captions if you don't want to read the Long Post!)
Photo-reply and let me know what you've been into!
—
Savory Perfumes
I'm pushing my love for gourmand scents just a bit further, and what better than slightly salty, briny smells for my hot humid environment?
Savory perfumes aren't flat-out salty. They give an impression of salt, like grains of salt on a crisp, cool slice of apple, watermelon or fig. It intensifies all the flavors and gives a slightly animalic and sexy feel to the overall scent. It's this aspect that turns a lot of people off, as it can easily remind one of sweat (or a whole range of other bodily fluids that shall remain un-named).
What I get though, is briny, oceanic water. It's like smelling the breeze off the ocean. Think mermaids, not socks. The 3 scents I love with a slight salty note are: Serge Lutens Jeux de Peau, L de Lolita Lempicka, and the space-age Queen of Savories, Thierry Mugler's Womanity. (I'll review these soon.)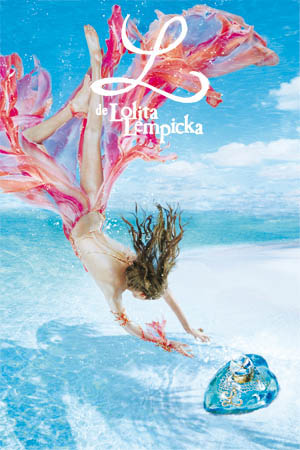 —
Mauve-beige lipstick and Brown lids
Let me hear you say it; BAW-RING.
Yeah, well I'm in the phase where I sort of just slap on my makeup for work every morning and don't pay too much attention to it.
I'm trying to finish up some products so I can Back-2-MAC for a new lipstick
I want something that is low maintenance, and that won't look odd if I don't touch up every couple of hours
My shade of choice is MAC's Faux for the lips, not simply because it was the lipstick that was closest to being finished, but also because it's my low-maintenance nude. It's not so pale that I need to make sure I have the right shadow or blush to wear it. It's taupe enough and opaque enough to mute any pink tones in my lips for a slightly sexy "mod" effect.
— 
Geek Heaven - The Fragcomm
There's something about guys doing fragrance reviewers that's just so fun to watch. No, I don't run out to buy the men's scents they talk about, and I'm not infatuated with any one of them (you'll never hear me admitting that), but they tend to dive into fragrances with the same sort of geeky glee and casual intensity usually reserved for discussions on the latest PS3 game or their raiding toon in World of Warcraft and Guild Wars 2.
If you're into fragrances, you're probably familiar with the more traditional blogger community, largely made up of a sorority of women who write the most beautiful prose about the scents they're experiencing. The Fragcomm is relatively young in comparison, but you get an equally close-knit fraternity of young men from all walks of life, giving you straightforward dissections, detailed breakdowns, price comparisons, comparative comparisons.
I've admittedly always been really geeky and intense about things I love, but it's never been easy finding many women around me who share an equal passion. I tend to reserve that type of obsessive conversations for the guys, but it understandably involves gaming rather than cosmetics. (I have a couple of raiding toons of my own, hey-ho.)
Watching one of the Fragcomm videos by Robes08, Kerosenetrewthe, Hiroyoruzuka, CutlassSupremeSL, and countless others not named here, including the one who makes me laugh out loud – pfalzgreven, has actually taken almost ALL my Youtube time these days. Maybe it's just the novelty of this refreshing middle-point where "boys" meets "beauty".
—
The Healer - The Dog Whisperer
I've always been rooted to watching Cesar Millan when it runs on TV, but I never actively sought out episodes. But the first few days after my cat passed away, I pretty much lost interest in makeup, fragrances, shopping, movies, Youtube, ANYTHING. I went through the motions and routines in a sort of quiet frenzy, but after about 10 minutes I'd always give up and begin looking for the next thing that might occupy my mind.
For some random reason, I chanced upon an episode online, and then started on another, and another, until I was watching episodes every spare moment I had. Watching Cesar helping animals (and their well-meaning, misguided humans) always left me feeling much calmer and less unbalanced. Maybe it's the "we can fix this" message inherent in every single story. Maybe watching the dogs filled a gap in my mind. Maybe I picked up on whatever "calm, balanced energy" he was exuding on screen. I'll probably never know and I'm not going to try and rationalize it.
What matters is it felt like I got an extra hand to hold. (Apart from those of my family AND you guys.)
—
Dark Chocolate Snickers
OMG. The combination of sweetness and salt with the slightest touch of bitter… Not the most sophisticated treat in the world, but hey – it's so boring to be sophisticated all the time.
—
Book I'm reading now: Coming To My Senses by Alyssa Harad
"A story of perfume, pleasures and an unlikely bride."
—
Paying it Forward with the Neighborhood Cats
I've got a lot of cat food which is just sitting there, so I've been going around distributing it to the strays in the neighborhood. If you saw my Instagram kitty pics, now you know what I was doing.
I also signed up for monthly donations to a cat welfare organisation. It's good to imagine that maybe a few more cats will live to go to good homes.
—
Addicted to: Photo filters on the iPhone
MagicHour is my favorite. I use Instagram to post of course, but MagicHour has so many fab filters, and it's totally free.
—
What's Coming Up
Posts on BH Cosmetics! I've got a package on the way, courtesy of the very kind team at BH. And strangely enough, I've just never tried any of their products yet.
Expect reviews and tutorials coming up!