Permalink
November Favorites (What I've been wearing, carrying, reading, and more!)
—
My music's mellow, my cheeks are dewy, and my scent is cozy, but other than this, my tastes have been running towards the wild and the bright, despite it being deep into the Fall season.
Eye makeup - MAC Tilt shadow

Tilt by MAC is like Superman. (Is it blue? Is it teal? Is it lime?)
This metallic shade has a fabulous texture, goes on like a dream, and gives your lids INSTANT drama, whether you're pale or dark.
—
Face product - MAC Mineralize Skinfinish in Blonde
I wish this wasn't a limited edition product. I love the soft dewy pink. It's too shiny looking to apply over your entire cheek (your pores would look like lunar craters), but run right along the peaks of your cheek bones, it's gorgeous and more flattering than a yellow-toned highlighter. 
—
Lip product - Barry M Lip Paint #146 Dolly Pink
Who says you need to match the tree in your backyard just because it's Fall??! After a few months of "natural-looking" lip colors, I'm falling back in love with intense electro-pinks. Just ditch the shimmer and use a dark/black matte shadow to create messy, winged, bad-girl eyes, and you'll be looking SMOKIN'…
For the darker-skinned lovelies, I always recommend MAC Pink Nouveau for something that will not go on chalky-looking, but if you're paler, put Barry M's Lip Paint in Dolly Pink on your Xmas wishlist NOW. This old favorite is deeper than Saint Germain and paler than Pink Nouveau. (And cheaper than both.)
While you're at it, drop in the Lip Liner Pencil #12 because it's a PURRFECT match.
Barry M ships internationally via barrym.com.
—
Skin product - Vichy Normaderm Tri-active Hydrating Lotion
This is a daily lotion for sensitive skin that's also oily or combination. Using harsh products to strip the oils, or loading your face up with more products just to try to control oil output can sometimes backfire, so I prefer products that don't aggravate it any further.
This lightweight lotion feels and smells fresh. It's not going to suddenly dry up your face and stop oil production (that never happens) but it does soothe and work to minimize issues. Just don't forget sunscreen over it.
—
Nail color - China Glaze Dance Baby
Who can resist the over-the-top tackiness of electro-pop pink nails with electro-pink lips? I just couldn't bring myself to wear Fall colors. I wore this shade for 2 weeks in the last month. (That seldom EVER happens because I rotate my shades every week.)
—
Body care - Eucerin Intensive Repair Extra-Enriched Foot Creme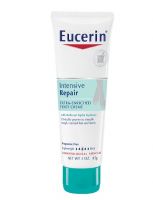 This foot creme has buffered alpha hydroxy acid to smooth and slough off dry and flaky skin on heels, and it's so buttery and non-sticky that I use it as a hand cream instead. 
—
Scent - Katy Perry's Meow
SURELY that's not a cat, but a chunky pink alien? Surely???
Anyway, tacky-cute cat alien aside (I did grow kinda fond of it in all its kitschy, childish glory), this is a very thick creamy scent, like warm vanilla creme with a soft fruity (pear). Some people smell coconut or cotton candy in there. I don't really get that except on the rare occasion, and it's mostly due to the combination of notes. 
Great comfort scent for chilly days and cool nights IF you enjoy smelling like dessert.
—
Accessory - Coach ultraviolet "Molly" satchel
What is it about Coach that gets the stereotypical Asian tourist going berserk? I was at the Woodbury outlets and there was a Korean gentleman with 2 arms DRAPED with what must have been close to 20 bags. He had a look of focused obsession on his face, and was pacing the aisles looking for more items to grab. 
I've never been a fan, but the DH had been given a shopping list by the family, so I accompanied him to the Coach boutique that afternoon. Picture the very odd scene where the man is busy examining Coach bags and talking about models and colors with the sales attendants, while the woman stands to the side tapping her foot and trying not to look too bored.
That was until I caught sight of the most glorious violet leather in the entire universe (ok I exaggerate, but not by much). Not any ol' purple, but P-U-R-P-L-E. Deep, and bright at the same time. It wasn't just the color either. I don't know why I never really noticed the Molly before, but I had a Goldilocks moment. The bag was not too big, not too small, not to structured, not too slouchy, with leather that was neither too thick and heavy, nor too delicate. 
I haven't stopped carrying it since.
[For the reader who sent me a message yesterday to ask about pricing and colors, the retail price in the US is just under $350. If you're elsewhere in the world, it's going to cost quite a bit more. Colors include a caramel and a bright, GORGEOUS neon-pink. They also have a color-blocked version but I personally think it's just too "noisy" for a bag this size and isn't heart-stoppingly bright like the single-shade version.]
—
Entertainment - Horror/Apocalypse/Survival theme
It's been a sort of horror month, with the morbid central attraction being post-apocalyptic scenes. 
Book - The Twelve (Justin Cronin)
TV - The Walking Dead Season 3

Music - Kate Bush "50 Words for Snow"
I first stumbled onto Kate after hearing a remixed version of "Experiment IV" by Hybrid. This amazing writer/producer/singer has been at it since the late 70s, and she's still got it today.
50 Words for Snow is ethereal and atmospheric, and something to listen to on melancholic, quiet days. Preferably when you're feeling a little chilly. If you enjoy Tori Amos or Cinematic Orchestra, you will probably like this album.
And isn't that album campaign image (AND her eye makeup) just beautiful?
—
Let me know what some of your favorites this past month have been!