Permalink
Les Fleurs d'Ete de Chanel (2011) Collection - Thoughts
—-
Just checked out the new Chanel Summer makeup collection, and I LOVE the campaign visuals.
The Summer theme for many makeup brands this year seems to center around tropical blooms (MAC Surf's Up). 
Collection wise, I must say I was not really impressed. The limited edition bronzers are (Bronze Corail and Bronze Rose) are pretty striped blocks of color in the classic Chanel case, but you can get the combined shade from just about anywhere.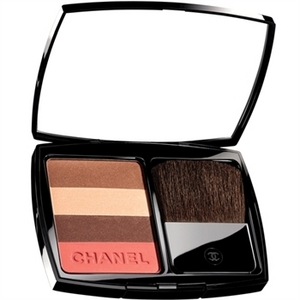 If you're a sucker for packaging and want to just collect these, then go ahead. If it's the colors you're concerned about, I'd venture to say it's not really worth the price they are charging.
Lilium, the eyeshadow quad featured, is not limited edition, and won't give you that beautifully tropical pink and green eye seen on the model. (But Photoshop will.) 
And those gorgeous blue-pink lips and nails? I dare say you will be able to find similar products from most places.