Permalink
Top 5 (Beauty) Guilty Pleasures Post
—
Think of it as "Shameless, Blameless Fun".
There are always a few (or a lot of) things that we keep gravitating to, against better advise (or the wishes of those around us). Maybe it's that ridiculous hair-tie or that blue lipstick with pink glittery bits.
Here are mine, and let me know what yours are!
—
1. Radioactive, fluorescent pink lipstick.
Yeah, it works on a beauty blog, but when you walk around with it (especially in Asia), you tend to attract raised brows in a mile-long radius. My husband doesn't quite understand my obsession with it, and I frankly think most people have no idea what to think. 
But  I love wearing a plain black outfit, minimal makeup, and my hair pulled back so I look perfectly nondescript until someone suddenly catches sight of that slash of ELECTRIC pink on my lips.
Absolutely startling.
Options: Barry M Shocking Pink Barry M Vibrant Pink, MAC Candy Yum Yum, Lime Crime Countessa Fluorescent
—
2. Smoky, smudgy eyes in the day.
(Tutorial for above look is 
here
.)
I'm not a drama queen, and I don't work in fashion or art, so smearing black kajal all over the lids (and underneath them) may sometimes look a bit "imbalanced". There's all the sultriness without any of the prettiness because I USUALLY like to wear that alone with just some lip balm.
I just smear it all over the lid in a thick coat, blend out the edges with a finger, and then run that dirty finger along my lower lash line for a very messy, imprecise smokiness. Then I run the black along my waterline for a bit more intensity.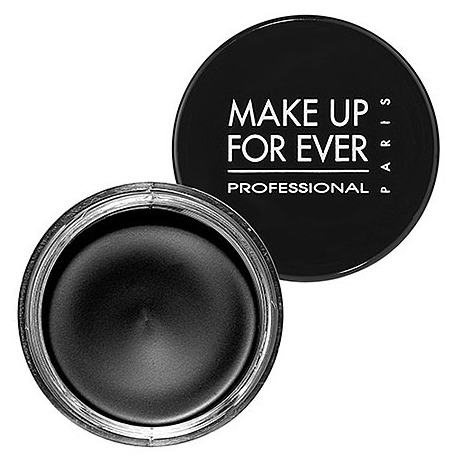 Options: Make Up For Ever Black Aqua Creme, black kajal sticks (look for the pointy lipstick tube form) from brands like Sleek, Bourjois, Shahnaz Husain, Guerlain.
—
3. Chanel beauty products
Are they good?
Yes. I especially love their exquisite fragrances, their blush, their cream bronzer, their cream/gel shadows, and lipsticks.
Are they worth that price tag?
Probably not.
That's why they're a guilty pleasure.
—
4. No blush.
(See point 2.) I can be so lazy sometimes that I'll just wear something on the eyes and lips and leave my cheeks completely alone. Well-applied blush always livens up the face, but I get annoyed when it isn't perfectly, so sometimes when I'm in a rush I'll just skip it altogether. 
—
5. Britney Spears Fantasy perfumes.
I own more than I care to admit.
For some reason, while I usually steer away from sugary fruit-loaded scents, Britney's Fantasy range (excepting Circus Fantasy) is nestled right beside the minimalist Serge Lutens and Chanels on my shelf.
Nevermind that I personally think the bottles are completely tasteless.
The scents are actually pretty darned well-composed, whether you like the sugary-sweet style or not. Fantasy (sugary vanilla frosting laced with sweet fruits) and Midnight Fantasy (heavy ripe berries with a musky-creamy drydown) in particular are the olfactory equivalents of digging into a pint of ice-cream by yourself; instantly gratifying but easily nausea-inducing in large doses. I reserve them for "alone-time" because there are plenty of people around me who cannot stand sweet scents.
Hidden Fantasy is the more grown-up of the 3, with a refreshingly dry citrus-rind-and-spices top over a quiet vanillic base, and I tend to wear that out more than the other 2 mentioned.